Furnishing styles and living trends 2023 - an overview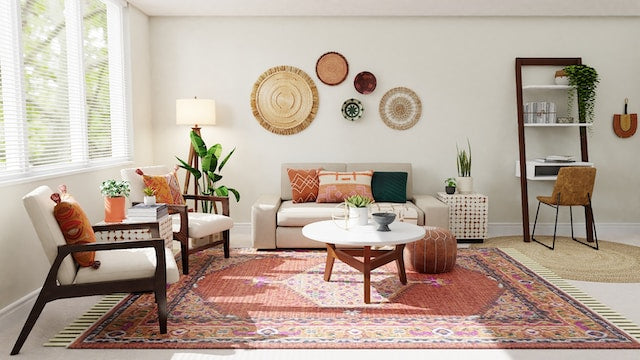 "More is more" according to the granny style or would you rather go minimalist with lots of free space? Vintage, modern, Scandinavian, industrial or boho – we can design and furnish our living space in a variety of ways and according to different styles so that we feel comfortable in it and recognize ourselves in it. Even in ancient Greece and the Roman Empire, emphasis was placed on the attractive design of living spaces. Beautiful interior design can not only improve our quality of life and inspire the soul, but also ensure functionality in everyday life.
We, the MAGNA Atelier, also offer tables and accessories that correspond to different furnishing styles - every interior enthusiast will find what they are looking for with us. We would therefore like to devote this article to the topic of furnishing styles and their history.
What exactly is an interior design style?
When we talk about an interior design style, we are referring to the way a room or building is designed and furnished. An interior design style includes various elements such as colors, materials, furniture, decorations and lighting that are combined together to achieve a specific aesthetic or atmospheric goal. The furnishing style you choose can greatly influence the mood and character of a room and therefore have a major impact on our well-being and the functionality of a room. And just as each person is individual and unique, so is their own furnishing style. Nevertheless, over the last few centuries, certain styles have stood out and appealed to a large group of people.
The history of furnishing styles
Interior design, the design of interior spaces, has been around for many centuries. If you will, it was the first time about 40,800 years ago designed a living space - in the Cueva de El Castillo cave in Cantabria, Spain, red, black and brown prints of hands, feet and fingers were found on the rock walls. To call this an element of an interior design style is of course a stretch, but cave painting shows us that people in the Paleolithic era already had an artistic understanding and the ability to represent their surroundings through artistic expression.
A little later, in the Roman Empire and Ancient Greece, interior design as we understand it today played a major role in everyday life. We already learned about the "Roman House" in history lessons in primary school and some people probably still dream of their own atrium today.
If we travel a little further in time, to the Middle Ages, it was primarily noble houses and monasteries that had elaborately designed interiors or were able to design them at all. Magnificent castles and palaces were also built during the Baroque and Rococo periods, in which interior design played a central role.
Another pioneer when it came to interior design was the Asians - there is a long tradition of interior design in the Asian region. In China, more than 2,000 years ago, great importance was placed on the harmonious and balanced design of interior spaces. Incidentally, Feng Shui, the doctrine of harmonizing people with their environment, also comes from there.
In the 19th century, as a result of industrialization, new forms of living and working emerged, which also placed new demands on interior design. This is how the style of historicism emerged, which picked up on past stylistic eras such as the Renaissance or Baroque. At the same time, new furnishing styles emerged, such as Art Nouveau, which was characterized by organic shapes and ornaments.
In the first half of the 20th century, modern architecture finally developed, which of course also influenced interior design. The Bauhaus style focused on functionality and reduction to the essentials. In the 1950s and 1960s, other styles emerged, such as the Scandinavian and Pop Art styles, which most of us are familiar with. The Scandinavian countries, which are known for their minimalist style and use of natural materials, have particularly stood out in recent decades. The so-called one is also completely new "Granny Chic" or "grandmillennial style", which is characterized by many patterns, kitsch and colors, as well as high quality Heirloom quality furniture. Furniture made from real natural stone, old paintings and colorful wallpaper are just a few examples of this new furnishing style, which is also practiced by Martha Stewart. 
And which modern interior design styles are most popular today?
What interior design styles are there?
Across different historical eras, geographical regions, cultural traditions and personal preferences, countless furnishing styles have emerged over many centuries. There are a variety of styles and trends in interior design these days, from minimalist and clean to opulent and playful. Environmental sustainability is also increasingly playing a role, which means the use of natural materials and resource-saving products such as MAGNA Glaskeramik, is becoming increasingly important.
Some examples of modern interior design styles are classic style, country style, Scandinavian style, industrial style and boho style. We would therefore like to take a closer look at some of these interior design styles.
Scandinavian – Clear lines & colors
The Scandinavian interior design style, also known as "Nordic design", is an interior design style that emerged in the Nordic countries of Denmark, Norway, Sweden and Finland. The style is characterized by its minimalist aesthetic, natural materials and light colors. In the 1930s -19 years ago, the Scandinavian interior design style emerged as a reaction to the historical interior design style that was prevalent at the time. The Scandinavian designers wanted to create a new aesthetic that was more functional, simple and accessible. The interior style was also developed in response to the dark and long winter months, to create a warm and to create a cozy atmosphere.
Finally, the Scandinavian interior design style gained worldwide fame in the 1950s through the "Scandinavian Design Exhibition" in New York, which introduced the new style to a wide audience. The style was influenced by many well-known Scandinavian designers such as Alvar Aalto, Arne Jacobsen, Verner Panton and Hans Wegner.
These features characterize the Scandinavian interior design style:
Bright and natural colors such as white, beige and gray
The use of natural materials such as wood, leather and wool
Simple and functional pieces of furniture
Clearly defined lines and shapes with a minimalist aesthetic
Emphasis on light and space
Natural and organic shapes for decoration and accessories
The Scandinavian interior design style is a timeless and elegant style that combines functionality and aesthetics. It is ideal for people who want to create a calm, relaxed and natural atmosphere.
An example of the Nordic style
Our model "Victoria" is a clear example of the Scandinavian interior design style. The bright and simple wooden frame fits unobtrusively into this style. 
Boho – Ethnic & Hippie Vibes 
The boho interior style, characterized by a relaxed and creative atmosphere, is inspired by hippie and bohemian culture. This style combines elements from different cultures, eras and styles, which is why it is often colorful, unconventional and full of textures and patterns.
The term "Boho" comes from "Bohemians," a group of artists and intellectuals in the 19th century who cultivated an anti-traditional, individualistic way of life. However, the Boho interior style developed in the 1960s and 1970s, when The hippie movement became popular in the USA and Europe.
Did you know that Sienna Miller when one of the most famous celebrities really brought boho style into the mainstream? In the late 1990s and early 2000s, she became known for her individual and unconventional style, which incorporated many elements of boho style. Her outfits during the Glastonbury Festival in 2004, in particular, where she wore long maxi dresses, feather headdresses, crochet vests and cowboy boots, shaped the image of boho style. As an actress and model, Sienna Miller also carried the boho style forward in films such as "Alfie" and "Factory Girl" as well as in fashion shows for brands such as Burberry and Mango. Her relaxed, yet elegant way of combining the elements and different styles and Mixing patterns influenced many women and shaped the boho style for many years.
These features characterize the boho interior design style:
Combination of different textures, patterns and materials such as velvet, silk, cotton, leather, metal and wood
Adding ethnic and global influences like Moroccan carpets or Mexican ceramic tiles
Using natural materials such as plants, wood and stone to create vintage furniture and accessories that are full of character and unique
Warm and earthy tones such as orange, brown, red and gold as well as bold color accents such as pink, turquoise and green
Overall, the boho style is a creative and unconventional interior design style that emphasizes individual personality and artistic expression. In the last five years, this style of furnishings has become increasingly common in mainstream furnishing stores.
It is interesting that the boho style has mixed heavily with the Scandinavian interior design style in recent years. This new style has already been given its own name - it's called "Scandi-Boho-Style".
An example of the boho interior style:
Our model "Lake Tahoe" makes boho hearts beat faster. The driftwood frame could have been collected by a hippie and the real natural stone top is the ideal place to plan your next trip to a distant land.
Country house – cozy & rustic 
Integrating traditionally rural elements made from natural materials into the interior design is the anchor point of the country house style. This style can vary depending on the region and culture, with certain features typical of the country house style.
These features characterize the Scandinavian interior design style:
Use of natural materials such as wood, stone, linen and cotton
Color palette of natural tones and muted colors such as white, beige, brown and green
Using rustic furniture or vintage pieces with patina
Details and accessories that emphasize the rural atmosphere such as flowers, candles, antique or rustic wall decorations, table linen, cushions and blankets are added
Overall, the country house furnishing style is characterized by a warm, cozy and rustic atmosphere. It is ideal for people who want to create a relaxed and natural environment that contrasts with the hustle and bustle of everyday life. The country house style is often associated with a life in the country and a love of nature and simplicity.
An example of the country house style:
Our model "Louisiana" is a dream for all country house style lovers. On this you can place freshly picked flowers from the forest and enjoy a glass of wine by candlelight in the evening. The turned wooden legs are playful and radiate charm throughout the living room.
Industrial – concrete, rust & space
The industrial interior design style is a modern interior design style characterized by its raw, exposed and minimalist aesthetic. The style is inspired by old factory and industrial spaces and combines elements such as brick walls, concrete floors, metal pipes and rough wooden elements. This style is also known for its emphasis on functionality, simplicity and is particularly popular among men. The origins of the industrial furnishing style go back to the 1960s in New York City, where artists and loft dwellers converted old factory and industrial spaces into apartments. In the 1980s and 1990s, the style was finally taken up and further developed by designers and architects.
These features characterize the industrial furnishing style:
Unplastered brick walls, exposed concrete floors and pipes as design elements
Use of design elements made of steel, iron, brass, copper or aluminum
Combination of rough wood, metal and leather emphasizing functionality and simplicity through the use of industrial lighting elements such as factory lamps or simple light bulbs
Use of accessories and decorations made of metal, wood or leather
The industrial interior design style is a modern and minimalist style that stands out for its raw and urban aesthetic. It is ideal for people who prefer simple, practical and robust furnishings, but still value modernity and individuality.
An example of the industrial interior style:
The model "Rom" is a perfect example of the industrial interior style. The rust-colored frame and simple, clean lines of this coffee table are perfect for placing the chic table in a New York loft - or in your own home.