Iconic natural stone - timeless elegance and contemporary values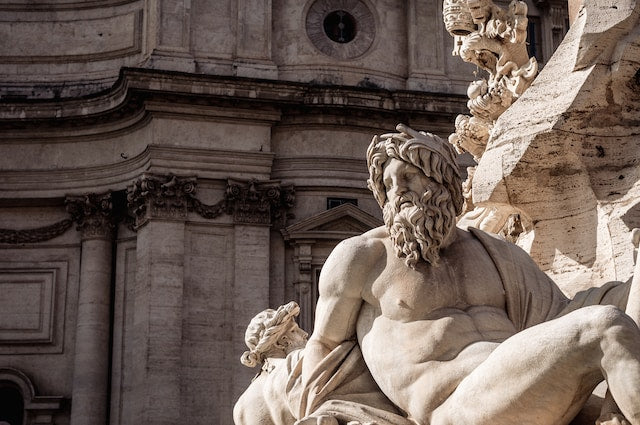 In the world of interior design and furniture manufacturing, natural stone has been an indisputable factor for centuries. From the majestic marble palaces of ancient Rome to today's modern minimalist homes, natural stone has established itself as an icon that has transcended time, trends and all styles.
But why is this material, especially marble, still so popular? What's the secret behind its enduring popularity?
A journey through the past – natural stone furniture through time
Even in the earliest civilizations, natural stone was valued not only as a building material but also as a sign of wealth and status. The impressive splendor of marble columns, precisely crafted granite tables and ornate sculptures were synonymous with luxury and sophistication. The Romans in particular stood out as masters in processing marble into artistic furniture and decorative pieces.
Famous examples of the historical use of natural stone for furniture or interior decoration are the marble bathrooms and mosaic tables that were found in the villas and palaces of the Roman Empire. These pieces were not just functional, but true works of art that were an expression of status and wealth.
In particular the Medici bust is considered an iconic example of the art of marble craftsmanship during the Renaissance. Michelangelo created this impressive bust as a tribute to the powerful Medici family of Italy.
The bust illustrates the amazing ability of artists to capture and depict human sculpture, fine detail and a lifelike appearance using marble.
During the Baroque period, marble was also increasingly integrated into the interior decoration of palaces. The Palace of Versailles in France is an outstanding example of this practice. The sumptuous rooms feature marble floors, fireplaces and tables that perfectly reflect the splendor and splendor of the French court.
These historical legacies have contributed to ingraining natural stone into our collective aesthetic. 
Timeless elegance and calming effect
The aesthetic appeal of marble is undoubtedly due to its timeless elegance and its special effect in the room. In addition to marble, granite, slate and limestone have always had a special place in the design of furniture and interiors, as they radiate an unobtrusive splendor that still gives a wide variety of living styles that certain "something".
From classic to modern, from rustic to minimalist - natural stone blends seamlessly into any environment and gives the home a special warmth and cozy atmosphere.
Because: Natural materials in the living space have been proven to have a calming effect on our nervous system. This is based on several factors including the visual, tactile and energetic properties of natural stones.
The organic beauty and natural presence of marble etc. can connect the living space with nature and create a calming atmosphere. By the way, touching smooth, polished surfaces or structured stone surfaces can reduce stress and have a calming effect on our organism.
In some cultures and spiritual traditions, it is even believed that certain natural stones possess energetic properties that can promote our well-being.
Ours Green Onyx For example, it is said to strengthen willpower and self-control. 
Ultimately, the effect of natural stones on our mood and nervous system depends on individual preferences, beliefs and many other factors.
What is clear is that if you want to create a calming atmosphere in your living space, adding... Natural stone tables definitely be an interesting and highly decorative option.
Preserved history & versatile applications
One reason for the continued popularity of natural stone is its versatility. From Natural stone dining tables, floors to kitchen countertops to sinks, floor coverings and wine racks – the range of possible applications is almost endless.
The resistance and longevity of natural stone make it the ideal material for furniture and furnishings that are not only beautiful to look at, but also last for generations.
Natural stones are a work of art of nature, and each stone is unique, incorporating the history of the earth's creation and reflecting it through fascinating colors and grains. The fascinating patterns, veins and color variations found in the stones give each piece a unique personality.
Especially in ours Exclusive Line We have taken advantage of this property of natural stone by putting together very special and rare natural stones with unique grains and processing them into unique design pieces that are only available once in the world. 
The natural variations of natural stone appeal to the human sense of beauty and make every marble table and natural stone slab a work of art in itself.
Back to the roots – sustainability and naturalness
The fact that natural stone is a purely natural product makes it particularly attractive. At a time when sustainability and environmental awareness are becoming increasingly important, natural stone offers this significant advantage: it is a naturally occurring material that can be mined in a resource-efficient manner and can theoretically last for thousands of years.
In contrast to artificial materials, natural stone does not require any complex production and therefore contributes to a reduction in the ecological footprint. The inclusion of natural stone in modern designs shows how versatile and adaptable this material is over time.
Designers and architects, like us, specifically use marble and other natural stones to create a connection between traditional craftsmanship and contemporary design.
This connection creates a unique atmosphere that merges the history of the material with the present.
Marble tables and their timeless beauty
Natural stone is an icon in the field of furniture design – and for good reason. Its timeless beauty, versatility, sustainability and the combination of tradition and modernity make it an irresistible material for interior design and the furniture market, because marble and its siblings easily withstand the test of time.
Whether in an ancient palace in Italy or in your modern city apartment in Germany - natural stone was, is and remains a fascinating and timelessly beautiful material that will continue to enchant generations to come.
Feel free to browse through ours Range of sustainable natural stone unique pieces.