Individual and sustainable furniture & accessories in heirloom quality
Our unique pieces from the MAGNA Atelier are manufactured and processed locally in our own production facility in Germany with sustainability in mind. We generate our own green electricity with solar cells and reuse the water we use several times with our own water treatment system. Our unique pieces are made from natural materials and we completely avoid artificial additives.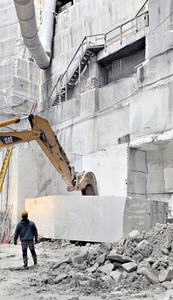 From our own quarries
Exclusive & rare selection
We have numerous quarries worldwide and an extensive network of selected partners. That's why we have exclusive access to rare and limited natural stones that you will only find with us. Every rock is naturally unique, a natural product and already several million years old. If you wish, we can source any natural stone in the world for you.
Learn more
We have worked together with these companies in recent years and provided them with our natural stones and MAGNA glass ceramics:










Recycling, upcycling & innovation: The production of our MAGNA glass ceramics
dining tables - our bestsellers
Das sagen unsere Käufer
Kundenbewertungen