Furnish the office – desks made of marble and natural stone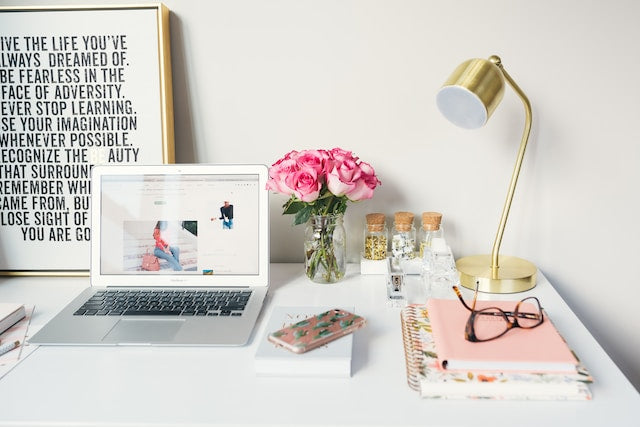 For most of us, working hours dominate most of our everyday lives. We sometimes spend more time at our workplace or in our home office than with our own families. You should therefore set up your workspace consciously and design it intentionally so that you feel comfortable in it and can concentrate as best as possible. Natural materials in particular, such as marble tables and wood, have been scientifically proven to have a positive impact on our health and well-being.
In this article we would like to focus on the interior design of the office. We'll give you information and inspiration on how you can benefit from a marble or natural stone desk, how to decorate your office and why a marble desk is the new stress ball.
Setting up the office - About marble desks, concentration & stress
When you move or want a change of scenery, you are often faced with the exciting but challenging task of redesigning your office. It is not irrelevant what type of job you do. For example, if someone has a job that requires a lot of concentration and is technical, then you should make sure that the furnishings do not impair concentration and you should rather keep the office quiet, clean and tidy.
Imagine that you are a tax advisor and there are patterns, shapes and colors swirling around you - that can be a bit distracting. An artist or a person with a creative job profile can certainly use their own workplace as inspiration for their own work and furnish and decorate it accordingly.
In any case, however, it is recommended a desk made of natural stone to choose for your office. In addition to the aesthetics that a marble desk brings to the workplace, marble desks and work tables made of natural stone also offer many other advantages. We would now like to explain further what these are and why this is the case.
Natural stones have a positive effect on health
We don't need to explain in more detail that natural stones are unique and aesthetic. But beautiful desks are also available in other materials - so why should you choose a desk made of marble or natural stone?
In fact, scientific studies have shown that natural materials, including natural stone, can have positive effects on our mental health. In 2008, for example, a study was published in the "Health Environments Research & Design Journal" that found that contact with natural materials such as stone or wood can have a stress-reducing effect on people and that natural materials improve our well-being and relaxation support financially. These are of course ideal conditions for a home office. But it gets even better!
Another study published in the Journal of Physiological Anthropology in 2015 examined the effects of the Japanese practice of Shinrin-Yoku, or "forest bathing," on human health. It found that contact with natural materials such as Stones, trees and the earth can have a positive influence on our blood pressure, heart rate and stress level.
Aside from the fact that a desk made of marble or another natural stone is a purely natural product and absolutely unique, the tables are also particularly robust, durable and high-quality. Natural stones also have a dense structure that absorbs sound well. Reducing ambient noise and creating a quieter work environment can be beneficial during business calls and online meetings. This can also help support concentration.
These findings and potential effects of natural stones on our mental and physical health and our concentration are of course good arguments for choosing a desk made of marble or another natural stone for your own workplace. How to transform your living space into your unique and unique space high-quality natural stone table We would like to explain what you can do and what you should pay attention to with a few tips and tricks.
Office furnishing tips – marble desk, plants & decorative elements
First, you should think about how you can best adapt your office to your everyday work routine before you start with the actual furnishing and design. Think about both practicality and aesthetically pleasing elements.
Which colors do you like? What is particularly important to you in your workplace? What style of furnishing would you like to design your office in? If you've answered these questions and still don't know exactly where to start, you can definitely start by choosing a desk.
The desk is definitely the focal point of your study and should therefore be the focus. Try to imagine the entire room where your natural stone desk will stand.
Ask yourself the following questions: Where should the natural stone desk be located? Where are the sockets and light sources in your office? On which walls would you like to place pinboards or whiteboards?
Because natural stones come in many different colors and every single slab is unique, created by Mother Nature, you have a certain amount of freedom to design and decorate the space around your marble desk. There are no limits to different tastes and furnishing styles when it comes to natural stone - red, green, black, white or brown - you can choose the natural stone top for your desk to match the rest of the room concept or align the other elements in the room according to the desk.
The grains of the different types of natural stone in particular enable us to create a central focus or a decorative highlight in the room with a natural stone desk. 
Let's take for example den Emperador Brown Marmor (seen here on the Pittsburgh desk), which has a strong and distinctive grain - a desk made of this special and eye-catching marble can become the focal point in the room. This decoration concept is particularly suitable for minimalist furnishing styles if you want to specifically interrupt the calm of minimalism. If instead you generally like things to be a little louder and more exciting, you can also use striking grains to breathe even more life into the room.
Hopefully these considerations will help you design your office. You are also welcome to view ours Articles about different interior design styles and our big decoration guide Read through for more inspiration.
Marble desks from the MAGNA Atelier
Browse now through all our desks and side tables made of marble and other natural stones.
We would also be happy to manufacture IYour very own copy as a custom-made itemif you can't find what you're looking for in our range.