Natural stone sink - Transform the bathroom into a spa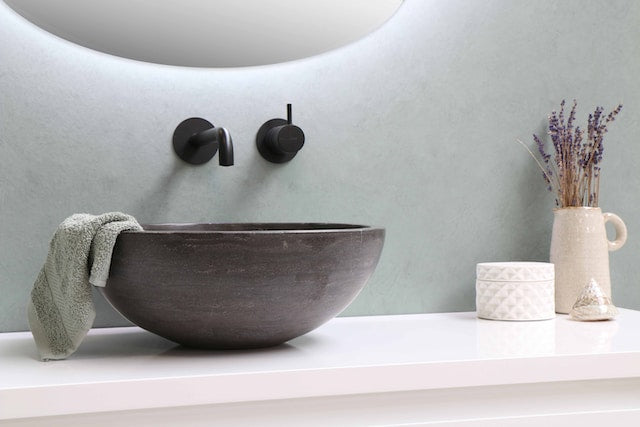 In the world of interior design, there are countless ways to transform your home into an oasis of relaxation. Different Interior styles, materials, patterns and Colors allow us to make our home more than a home – it can become an expression of ourselves. 
You already know that we put a lot of time, love and care into our manufacture unique natural stone tables and designer objects and create unique pieces with passion from natural stones that are millions of years old.
We have been working on our latest creation for a few weeks now and today we would like to introduce you to our newest addition to the MAGNA Atelier family: washbasins made of natural stone. You can finally purchase these from us from October 1, 2023 and we would like to tell you about these jewels for wet areas today!
Wash basin made of natural stone – wellness & elegance like in a spa 
If you're wondering how you can add elegance and natural charm to your bathroom at the same time, then we have the answer for you: with a natural stone sink.
Our natural stone sinks are a fascinating combination of craftsmanship and the beauty of Mother Nature. We initially make our wash basins from three different natural stones, Bianco Carrara, Nero Marquina and Crema Marfil, initially in standard dimensions.
Each washbasin is unique.
This means that your bathroom not only receives a functional washing area, but also a real work of art from nature, which is already several million years old and is a testament to the history of our earth's creation.
A natural stone sink immediately gives your bathroom timeless beauty and a touch of nature. The natural colors and textures of the stone bring a certain calm and balance to your bathroom. Because: You bring a piece of nature directly into your home and being in nature or being surrounded by natural materials has an effect proven to have a calming effect on our organism.
And who doesn't want to have the feeling of waking up in a spa in the morning and getting ready for bed in the same one in the evening?
During the Corona pandemic at the latest, most of us realized that we value our own homes and view them as a refuge. But now back to the topic: 
The variety of stone types available allows you to choose the perfect natural stone sink for your individual style and taste. If you like a more neutral and natural look, you might like the Crema Marfil round sink. For an elegant and timeless atmosphere, we recommend the square washbasin made from Nero Marquina Mamor.
The white Bianco Carrara offers a third, particularly classic alternative that will give your bathroom a sophisticated, modern aesthetic and blend in with any interior style.
But can natural stone sinks actually keep up with "normal" ceramic sinks? Yes, natural stone sinks even surpass ceramic sinks in some aspects and technical details.
We would therefore like to go into this in more detail. 
Natural stone sink – Not only beautiful, but also functional
Natural stone sinks are not only beautiful to look at, but also extremely durable and practical. In fact, they are the original version of all washbasins, which were replaced by the more affordable ceramic washbasins from the 19th century onwards. While ceramic sinks can also be durable, they are more prone to scratches and can wear out over time.
Natural stones are known for withstanding daily wear and tear and maintaining their beauty for centuries. Another advantage is their ease of care – a regular wipe down with a mild detergent is enough to keep your natural stone sink in pristine condition.
One of the biggest advantages is probably their natural color and grain - while every speck of dust can be seen on a white ceramic washbasin, the natural stones effortlessly conceal smaller dust particles and hair. 
Natural stones & hygiene – Naturally anti-bacterial
In addition to their beauty and timeless elegance, natural stone sinks also offer a remarkable advantage in terms of hygiene. The natural stones from which our sinks are made are naturally antimicrobial and resistant to bacteria and germs. Ceramic sinks are also easy to clean, but they do not have the natural antibacterial properties of natural stone. Stones are inorganic natural materials and therefore ideal for hygienic purposes, Allergy sufferers and even for him Fire protection. 
This means you don't have to worry about the cleanliness of your sink. With regular cleaning and care, you can be sure that your natural stone sink is not only beautiful, but also hygienic. 
Compared to other materials, natural stone retains its antibacterial properties over time, which is invaluable for your well-being and health. Not only can you enjoy a gorgeous bathroom, but you can also have the peace of mind that your laundry area is always clean and hygienic (as long as you clean it regularly, of course). 
And how can you install such a natural stone pool?
Installing a natural stone sink 
Incorporating a natural stone sink into your bathroom design can be done in a variety of ways.
You can place it on a console or vanity for a sleek, free-standing look. Or you can opt for a built-in, where the sink is integrated into a built-in cabinet to create a seamless look. 
To complete the overall look, we recommend incorporating the natural elements into your bathroom design. For example, complement the natural stone sink with wood (a bamboo ladder for towels, a petrified wood stump as a shelf), plants or Marble trayswhere you place your cosmetic products. This creates a harmonious connection between the different elements in the room.
Marble washbasin from the MAGNA Atelier
Natural stone sinks are not only practical and beautiful, but also an investment in your home. Not only will they improve the current aesthetic of your bathroom, but they can also increase the value of your property.
If you're looking for a way to add that extra bit of elegance and charm to your bathroom, consider a marble sink. It is not only a functional element, but also a piece of natural art that will make every trip to the bathroom a real pleasure.
Please contact us and reserve Get one of our first marble sinks before they sell out.