Material care from A to Z: How to clean your marble properly!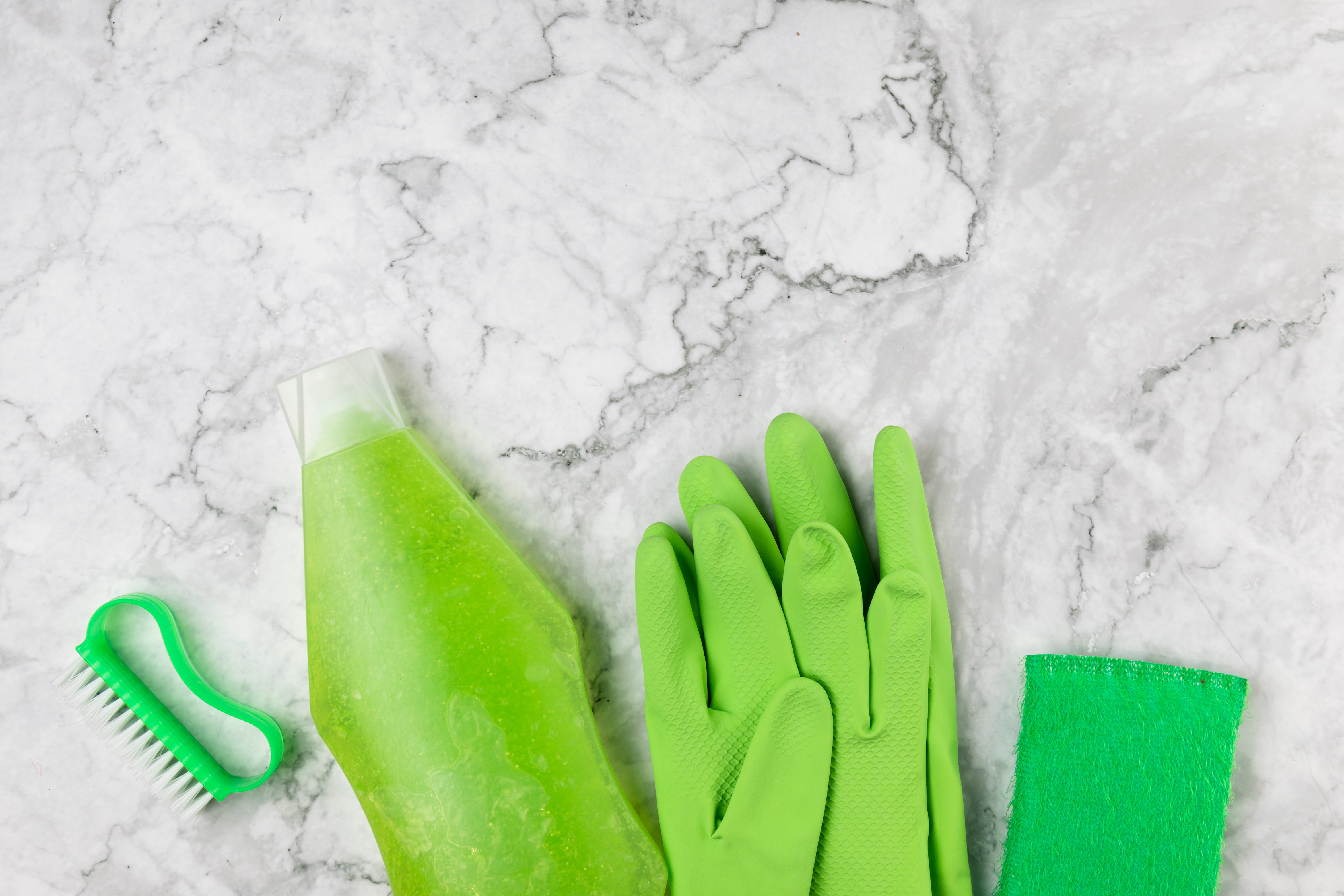 "The little bit of housekeeping takes care of itself, says my husband." - Fortunately, those days are over, but with the right know-how, men and women can keep household maintenance to a minimum and efficiently. This also applies to the care of marble and natural stone. Because: Correct care and effective protection of marble and other natural stones is important so that the natural beauty of your million-year-old natural product is preserved. 
Basically, natural stones are not materials that require special care and have therefore been popular in house building and interior design for thousands of years. Nevertheless, marble as a natural material, like wood, is a little more delicate and sensitive than many ceramics or plastics.
In this material care guide we would like to explain to you how you can clean marble, polish marble and properly care for natural stone. Because: After a few years or even decades, many owners of natural stone products often ask themselves how they can get marble to shine again.
We are here to give you answers to all your questions - at least when it comes to marble care.
Cleaning marble: What you need to pay attention to
Marble is a purely natural product and must be cared for accordingly. Proper care is not particularly time-consuming, can be carried out quickly and ensures that marble retains its natural beauty for decades and centuries. You shouldn't be afraid to bring marble into your home because the little care that marble requires does not outweigh its wonderful beauty.
We will now explain to you in more detail what exactly you need to pay attention to when caring for marble.
Conventional cleaning agents and their effect on marble
First of all we would like to you die No-Go's when caring for marble:
Never use vinegar cleaners or cleaning products containing acids or alkalis to clean your marble or natural stone. These ingredients are too aggressive and attack the marble directly. If cleaned incorrectly with vinegar or other acids, not only can the marble become discolored, but the surface can also quickly become dull and stained in appearance. 
You should also avoid alkaline and surfactant-containing cleaning agents in order to protect the natural material as best as possible.
Many customers are initially of the opinion that lime cleaner would then offer good cleaning for marble etc., since many natural stones, such as marble, are ultimately made of limestone - we have to deny this. A limescale cleaner could also damage the marble.
Now we would like to get straight to the suitable and correct cleaning and care products for your marble.
Tips and tricks for optimal marble cleaning
The secret to properly cleaning your marble and other natural stones is first little water to be used for cleaning.
Water or liquids that remain on marble and natural stone for too long will deprive them of their own fluid and can result in stains or limescale. Using little water for cleaning is one of the basic rules when cleaning natural stone and marble. Using little water prevents limescale stains and is therefore generally recommended.
A slightly damp cloth is sufficient for cleaning and your marble will thank you for it. Use a soft cloth, such as a microfiber one, and wipe gently in the direction of the grain to prevent scratches. 
As far as the cleaner is concerned, you should use alcoholic and pH-neutral cleaners or, better yet, use cleaning products specifically developed for marble, such as our MAGNA cleaning kit. This saves you the long search for suitable cleaners and you don't have to have a chemistry degree to decipher the label.
To avoid stains on the marble surface, you should always gently polish the marble with a cotton or microfiber cloth after cleaning.
If you don't want to spend a long time looking for a suitable cleaning agent for your marble or natural stone in order to clean it appropriately and maintain it in the best possible way, we can offer you our own one at this point MAGNA cleaning kit, which we developed specifically for our natural stone slabs.
How do I make marble shine again? Everything about marble care
Nothing is as beautiful as the shine and shimmer of marble the first day it is processed. This shine will accompany you for years and delight you every day.
After many years of use, marble may appear a little dull in some households due to heavy use - but don't worry, it usually doesn't take much work to restore it to its original shine. To keep your marble looking shiny for decades to come, you can use colorless shoe polish, beeswax or even sunflower or baby oil. Incidentally, some people are not bothered by this natural "ripening" of marble, but rather welcome it as a quality feature, similar to leather or wood. 
However, if you would rather have the dull areas shiny again, then apply one of the above-mentioned agents sparingly with a soft cloth to make the marble shine again. If this doesn't quite achieve the desired effect, you can repeat the process or consult an expert. Marble experts have the necessary technology and the appropriate tools and expertise to restore your marble to "like new." Hard stones, like our quartzites, are less susceptible to dull spots and signs of wear compared to marble. 
Another tip to keep your marble shiny for as long as possible is to waterproof it. About every five years you can use a commercially available impregnation agent for natural stone to make your marble water and oil repellent by impregnating it and also protecting it from dirt. Our MAGNA cleaning kit already contains a suitable impregnation agent for your natural stone.
Damage: This is how marble scratches and dull spots can be removed
It happened - the children, the cat, or maybe even you yourself scratched the marble. Take a deep breath, because this isn't half as bad. We're here to help! Smaller scratches on marble and natural stone can often be easily polished away on your own. You can also make scratched areas smooth again, for example by polishing the scratched areas with a baking soda and water mixture.
Instead of baking soda and water, you can also move very fine sandpaper (800 grit) over the affected areas in a circular motion to remove dull spots and small scratches. Then go over the treated areas with a natural oil or beeswax and let it take effect.
However, if the damage to the marble or natural stone is too severe or deep, the stone must be sanded down a little by an expert and then treated with a polish. In the case of particularly deep scratches, small holes or large areas of dullness, it is best to consult a specialist company who can treat the stone professionally. We can help you choose an expert or use our in-house specialist staff.