Our outdoor collection – marble tables for the garden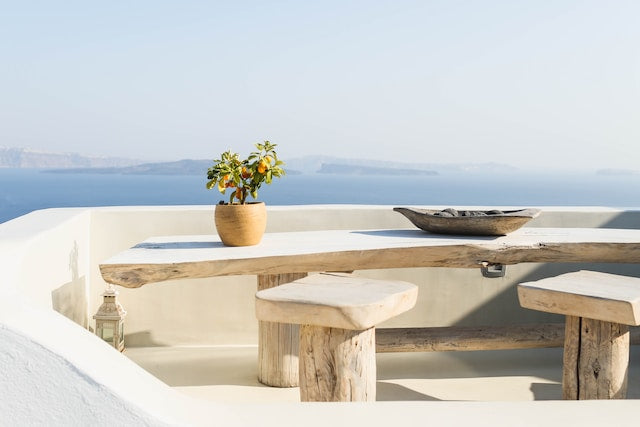 Natural stones have been used for outdoor use since the dawn of humanity. Its magnificent history as a design and building material goes back a long way and can be found in many cultures and across all continents. Since ancient times, natural stones have been used for various outdoor purposes, such as the construction of roads, houses, bridges, temples, furniture and other architectural structures. In many cultures around the world, natural stones have been and continue to be valued for their long-lasting durability, versatile aesthetics and natural beauty.
Popular examples of the special value of natural stone include the use of marble in ancient Greece and Rome, sandstone in India and China, basalt in Egypt and granite in many other parts of the world. Over the centuries, the use of natural stone in outdoor areas has of course evolved and adapted somewhat. Today we continue to use natural stones as a high-quality material for various outdoor areas such as tables, patios, pool decks, tiles and in landscaping.
With advancing technology and improvements in stone processing and processing, we can now use natural stones better than ever in a variety of different formats, finishes and colors to suit the needs of the four seasons and different tastes.
The use of natural stones in outdoor areas has proven itself over the centuries due to their high quality and uniqueness and therefore remains a popular choice today due to their natural beauty, longevity and versatile application possibilities.
The MAGNA Atelier focuses on this Manufactory of high-quality and sustainably produced natural stone tables – for both outdoor and, of course, indoor use. Our new outdoor collection In this article we would like to give you an insight into the background of the natural stones used for outdoor use. 
What do you have to pay attention to if you want to use natural stone outdoors?
Since natural stone is exposed to enormous weather and temperature fluctuations outdoors, it is first important to ensure that the stone you choose is reasonably frost-resistant. Frost-resistant stones have low water absorption and can therefore handle moisture better without cracking or becoming damaged in frost.
Depending on which stone you choose for an outdoor table top, it is then processed in different ways to make it suitable for outdoor weather conditions. In particular, stones with a textured surface, known as a "satin" finish, are a good choice for outdoor use.  
A special processing for the outdoor area
To use natural stones as outdoor table tops, certain processing steps are required to ensure their durability and weather resistance. It is essential that the stones are processed professionally, which we of course ensure for each and every one of our stones as natural stone experts with decades of experience and the right specialist staff. 
Before you even start processing the stone, it is first important to choose the right stone so that it is suitable for outdoor use and has the required properties. Granite, marble, slate and quartzite are some examples of natural stones that are suitable as outdoor tables.
After the appropriate stone has been selected, it is cut to the desired dimensions, to fit the frame and to the shape of the table top. This step is done using specialized tools such as diamond saw blades to obtain precise and clean cutting edges.
We have been one of the most renowned natural stone dealers and producers in Germany for over 30 years, which is why we have all the machines and equipment necessary for the professional processing of all types of natural stone.
As soon as the natural stone has been cut, the surface treatment begins. For outdoor table tops, a non-slip or textured surface known as "satin" is often preferred. This texture can be achieved by sanding, brushing or flame treating.
In the picture you can see the difference between a satin finish and a polished finish, with the satin finish showing in the top part of the photo and the polished finish showing in the bottom part of the photo.
It is also important to note that natural stones can be sensitive to temperature differences and thermal stress. To avoid cracks or breaks, measures should be taken to protect the table top from direct sunlight and to keep away possible heat sources such as fireplaces or hot cookware. It is therefore recommended to place the natural stone table under a pergola, a parasol or on a sun-protected terrace.
The professional installation of the natural stone table top is also crucial for its longevity and optimal suitability for outdoor use. With our premium shipping company, we will set up your table for you on site and at the storage location and also dispose of all packaging materials.
It is always advisable to Get advice from our customer service expertswho are familiar with the specific properties and requirements of natural stone to ensure that we prepare your table in the best possible way for its intended use.
Another important aspect of outdoor tables is proper care and cleaning. 
Cleaning for outdoor natural stone tables
Natural stone outdoors, like indoor tables, should generally be treated with a suitable impregnating agent to protect them from moisture, staining and frost damage. 
Also the Regular cleaning to maintain the natural beauty and durability of the natural stone is important so that the natural stone outdoors remains beautiful for a long time. We have ours for exactly this purpose Cleaning kit developed that our customers can purchase from us. 
Regularly remove dirt, leaves, stains and other debris from the surface. Be sure to avoid using harsh and acidic cleaning products that could damage the stone and follow the recommended cleaning and maintenance guidelines for the specific stone.
Consequently, we would like to discuss some of our natural stone specimens that we use for our outdoor collection.
Natural stones for outdoor areas
Granite – Only the tough ones come to the garden
Granite is a very hard, robust and durable natural stone. It is resistant to weather influences, frost, heat and wear. Granites are available in a variety of colors and textures and work well for tabletops, patios, pathways, stairs and even as pavers.
Absolute Black Unser, also known as Absolute Black Granite, is a particularly popular choice for outdoor tables due to its special properties. The Nero Assoluto is characterized by its deep black color, which gives it an elegant and timeless appearance. This natural stone can create an impressive contrast to other outdoor elements and create a noble atmosphere.
Nero Assoluto is a granite stone of particularly high quality that is characterized by its exceptional robustness and durability. It is ideal for heavily used outdoor areas. The Nero Assoluto has a very dense and closed structure, which means it has low water absorption. This makes the stone less susceptible to stains, frost cracks and dirt, making it the perfect material for outdoor use where it is often exposed to rain, dirt and other environmental influences.
Quartzite – the special eye-catcher on the terrace
Quartzites are metamorphic rocks that are also suitable for outdoor use. The quartzite is resistant to weathering and also has good slip resistance, depending on how it is processed. We polish the quartzites for outdoor use so that they can withstand the effects of the weather as best as possible. We offer our quartzites in different colors in our outdoor collection. For example, you can choose between the gray and white Venom and the black and white Copacabana.
Unser Quarzit Copacacabana is a particularly beautiful natural stone for outdoor use, as its striking black and white grain offers an interesting contrast to the surrounding nature (as long as you don't have a zebra in the garden). 
We make it possible for you with our custom-made products By the way, you can also have your very own unusual outdoor table made for you.
So you could e.g. B. the green quartzite vision or the extraordinary Patagonia have it processed for a patio table.
Marble – Italian flair with Olympus White
Marble, especially our "Olympus White" variety, is a popular and particularly aesthetic option for outdoor tables. 
"Olympus White" is characterized by its bright and elegant appearance. Its white base tone with the characteristic gray or bluish veins gives your outdoor area an elegant and timeless charm, just like in Italy.
Another advantage of marble for outdoor use is its heat resistance. Marble can withstand high temperatures, making it well suited for outdoor use, especially in areas where hot pots, pans or grills are used - keyword: grilling season. 
Marble's special ability to stay cool, even at high temperatures, is another plus point for the timeless Olympus White. This aspect can be particularly pleasant if the table is used in summer and you don't burn your forearms like with other outdoor tables made of e.g. B. Metal.
Even with marble, it is of course important that the surface is cleaned regularly and treated with our special sealant once or twice a year to minimize the penetration of water and potential staining.
Limestone – Living in harmony with nature
Limestone is also a natural stone that is well suited for outdoor use if it has been processed correctly. Limestones are mostly available in natural beige and cream tones. 
Unser Ivory Cream is e.g. B. a natural stone that consists mainly of limestone and impresses with its natural elegance. Particularly our coffee table Gothenburg impresses outdoors with this elegant color combination. 
Discover all our other tables made of natural stone for indoor use now!