The magical story of Carrara marble: The fascinating Bianco Carrara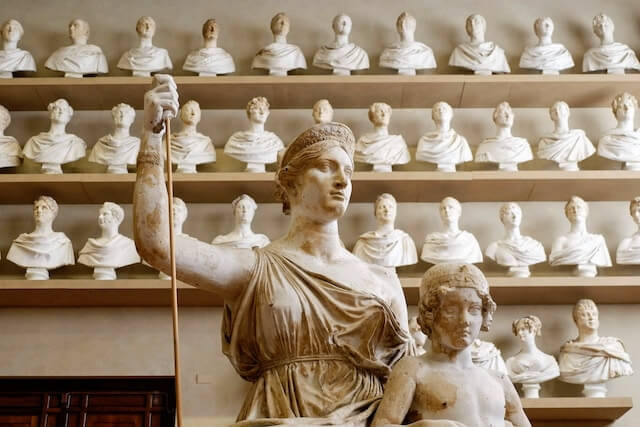 Michelangelo, culture and elegance - today we would like to take you on a fascinating journey to the Carrara quarries in Italy, famous worldwide for their breathtaking marble varieties. We at MAGNA Atelier also use Carrara marble. Today we would like to pay special attention to the enchanting Bianco Carrara marble.
Bianco Carrara has captured the hearts of architects and artists around the world and also our unique natural stone pieces are refined with this special marble and become an absolutely unique piece that contains real world history.
So immerse yourself with us in the history and beauty of this extraordinary stone from Carrara!
Carrara marble: A jewel of nature
Carrara marble is undoubtedly one of the most fascinating natural treasures on our planet. Anyone who has ever been on holiday in Italy may have seen the impressive quarries from afar or even visited them. Carrara marble is obtained from the quarries in the Carrara region of the same name in Tuscany. Excellent wine, delicious antipasti, impressive marble statues and la dolce vita – what more could you want?
For over 2,000 years, the special marble in Carrara has been valued and locally mined for its impressive beauty and quality. Carrara marble is characterized by its light color and distinctive veins, which give it a unique character. It's no wonder that this marble is so popular in architecture and sculpture - and has been since ancient times!
The history of Carrara marble
The history of Carrara marble is magnificent and goes back particularly far. Hardly any other rock has as much archaeological and art historical evidence as Carrara marble and Bianco Carrara. Even in ancient times, the noble marble was used for Roman baths, temples and sculptures. World-famous artists and sculptors, such as Michelangelo and Bernini, used Carrara marble for their masterpieces and valued it for its even structure. Also the famous statue "David" by Michelangelo is made of Carrara marble.
Since ancient times, Carrara marble has attracted an impressive list of admirers from all over the world, including us. The Carrara quarries are like a living museum that allows us to experience the past up close. Unique tables and unique designs It is therefore a particularly great honor for us to make something from this historical and high-quality material.
Bianco Carrara: The star among the Carrara marble types
Many people don't know that there isn't just one type of Carrara marble. Among the different types of Carrara marble, the Bianco Carrara is undoubtedly the star alongside the Statuario, which was mainly used by Michelangelo for sculptures. "Bianco" means "white" in Italian, which describes the color of the rock. The Bianco Carrara impresses with its bright, white color and fine veins, which can vary from gray to blue-gray. These unique patterns, which are unique to each individual Bianco Carrara slab, make each example of Carrara marble a work of art of nature.
So it's no wonder that this marble is so popular and popular not only for making table tops and sculptures, but also in interior design, from bathrooms to kitchens, floors and stairs.
Spoiled for choice – Carrara marble types
The Carrara region is home to an impressive variety of marble types. The mining area is so large that there are visual differences in colors, veining and structure. In addition to the Bianco Carrara, there are many other varieties such as the Calacatta Viola, the Statuario, the Arabescato and the Carrara C marble. Each of these varieties is characterized by unique colors, veins and special characteristics.
Der Calacatta Marmor is known, for example, for its striking and distinctive purple veins, while the Statuario marble impresses with its almost "pure white" color. No matter which variety you choose, we can help you Create your personal unique piece from every type of Carrara marble. 
The use of Carrara marble
Carrara marble is highly sought after in various areas due to its versatility and elegance. In architecture it is often used for floors, stairs, wall cladding and facades. Due to its natural brightness it gives in the form of e.g. b. tables, the various rooms an airy and appealing atmosphere. Even in kitchen design, Carrara marble is a popular material for worktops and backsplashes because of its quality material, heat resistance and durability. In the bathroom, Carrara marble gives vanities, showers and bathtubs a luxurious touch.
Carrara marble continues to be used for works of art, sculptures and monuments because, through its timeless beauty and magnificent history, it continues to uniquely express the creativity and vision of artists. A contemporary sculptor you should definitely know, for example, is the Chinese artist Luo Li Rong, who creates very realistic and feminine marble sculptures. She uses Baroque and Renaissance techniques to bring her unique sculptures to life.
The Carrara region itself is still home to some of the most renowned sculpture schools in the world. Career change, anyone?
Sustainability and Carrara marble go hand in hand - a purely natural product
When considering natural stone, it is always important to consider the question of sustainability. Carrara marble is a natural material that constantly "grows", but due to the long time it takes to form, it is of course only available in limited quantities. The mining and processing processes for natural stone and marble are now becoming increasingly environmentally friendly in order to minimize the impact on nature. Quarries can even promote ecological diversity.
Many quarry operators and that too MAGNA Atelier relies on sustainable mining techniques and observes strict environmental regulationsto protect natural resources. With our partner Greenspark, we also offset the ecological footprint of every customer order by collecting plastic bottles from the sea and planting trees. Here you can see how many trees we have already planted and how many plastic bottles we have already taken out of the sea.
Carrara Marble im MAGNA Atelier
Carrara marble, especially the enchanting Bianco Carrara, is a timeless jewel of nature that we would like to make available to you. With its fascinating history, diverse varieties and elegant appearance, the Bianco Carrara has taken us by storm, so much so that it is one of the 9 types of natural stone in our original line.
If you are looking for one dining table, coffee table or Marble side table If you are looking for one that combines history, elegance and uniqueness, the Bianco Carrara is definitely the perfect choice! Even more exclusive varieties, such as B. the Calacatta Viola, we offer you regularly in our Exclusive Line an.