Travel destinations for natural stone lovers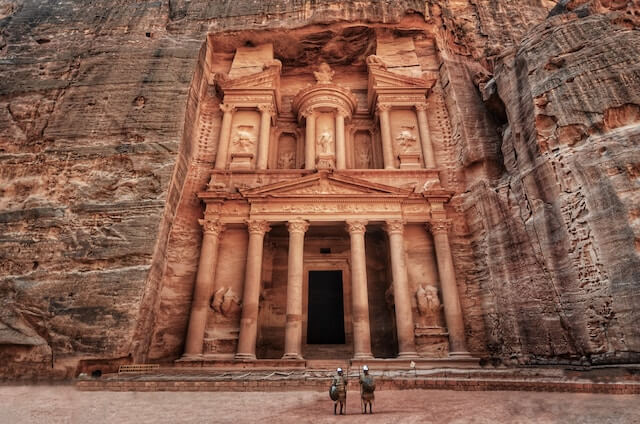 Summertime is approaching and many people have been planning their vacation for a long time. However, if you are more of a spontaneous type of person, then we have picked out a few interesting and unusual travel destinations for your inspiration. 
For people interested in natural stones, other cultures and quarries, there are a variety of very special travel destinations around the world that are guaranteed to create unique memories that have nothing to do with an annual Malle holiday. From ancient quarries that now serve as tourist attractions to modern quarries that still quarry stone, to ancient cities and temples built into mountain ranges, there are countless places worth visiting. We promise you that this article does not contain the usual list of long-known and crowded tourist hotspots. 
Ready? Let's go!
Rajasthan, Ind
India is a land of abundance: culture, customs, colors, noise, smells, temples, palaces and real chai tea, which has nothing in common with the brew of the European climes. The Rajasthan region in particular has a lot to offer when it comes to natural stone wonders. The region is known for its numerous palaces, fortresses and temples built from the different types of natural stones quarried locally. There are many quarries in Rajasthan, where materials like sandstone, granite and marble are mined.
Some of the most famous quarries in Rajasthan are Jodhpur Quarry and Makrana Quarry. The Makrana Quarry is known for its white marble and was considered one of the main suppliers of marble for the world-famous Taj Mahal.
Speaking of which: When it comes to tombs, temple cities and ancient buildings, hardly any other country offers as much wealth as India. With its incredible Hindu temples and cave cities, India is a dream destination for all Lara Croft and Indiana Jones fans. India is very affordable to travel around. Before you leave, find out about necessary vaccinations, safety recommendations and read a little about Indian culture so that culture shock doesn't overwhelm you or you wonder why everyone is constantly shaking their heads. Spoiler: Shaking your head means "yes" in India and represents agreement – ​​it has nothing to do with denial. 
Walk in the footsteps of an advanced culture - temple cities & cave temples
Further south of Rajasthan are the Temple city Hampi (Karnataka) and Ellora (Maharasthra). The Hampi ruins are spread over an area of ​​approximately 26 square kilometers and include a variety of structures such as temples, palaces, baths, pavilions and more. The most famous attractions are the Virupaksha Temple, the Vittala Temple and the Lotus Mahal. These structures are a testament to the artistry and architectural skills of the Vijayanagar artists when it comes to building with natural stones. Vittala Temple is one of the most impressive temples in Hampi and is known for its stone chariots placed on the platform in front of the temple. 
Apart from the ruins, there are also many other attractions in Hampi. The Anjaneya hills are a popular place to watch the sunset and enjoy breathtaking views of Hampi and its surroundings. Hampi is a wonderful place to immerse yourself in Indian history and admire the natural stone architectural wonders of the Vijayanagar era.
Ellora is a UNESCO World Heritage Site in Maharashtra, also known for its spectacular cave temples and shrines. It is one of the most fascinating archaeological sites in India (and arguably the world). Ellora is a little less well known than Hampi and you can often explore the temples all to yourself and secretly hum the Indiana Jones tune. The Ellora Caves stretch for a distance of about 2 kilometers. In total there are 34 caves that were built from the Deccan Plateau between the 6th and 10th centuries by various religious groups, the Buddhists, Hindus and Jains. Most of the caves are Buddhist and Hindu shrines, while only five caves are Jain shrines.
The Ellora Caves are famous for their architecture, sculptures and murals. The Hindu caves feature a wealth of sculptures, including a huge statue of the god Shiva in the Kailash Temple Cave, said to be the largest monolithic structure in the world. The Kailash Temple Cave is an impressive example of Indian rock architecture and an absolute must for every natural stone and archeology enthusiast.
Green Guatemala
Even though the MAGNA Atelier may not be as talented as the Buddhists from the 6th century, we are still proud of our work with Indian natural stones. A natural stone that we carry in our classic collection is Verde Guatemala. The Verde Guatemala is a 163 million year old metamorphite from India.
Verde Guatemala impresses with its elegant, dark green color, which is crossed by characteristic and subtle veins. The metamorphite was named after a green slate from Guatemala that it looks very similar to, but which has no longer been available since the civil war. A nice example of how we process Verde Guatemala is ours Sideboard Monte Carlo.
Tuscany, Italy
Another destination that will be particularly interesting for natural stone lovers is Tuscany in Italy. The region is known for its picturesque villages and impressive landscape characterized by vineyards, olive groves and hills.
Tuscany is also home to a large number of quarries that mine materials such as marble and travertine. Some of the most famous quarries in Tuscany are the Carrara Quarry, known for its white marble, and the Seravezza Quarry, known for its high-quality travertine. Even people who are not particularly familiar with natural stones probably know the Carrara quarry. Also the Bianco Carrara, which we use for many of our Natural stone tables use is mined in this region. Marble from the Bianco Carrara are among our clients' absolute favorites.
Bianco Carrara – Compressed Culture
Bianco Carrara is a well-known marble stone from the Carrara region of Italy that has been used for many important works of art and architectural projects throughout art history. One of the most famous examples of its use is Michelangelo's "David", a sculpture now on display at the Accademia Gallery in Florence. This was made from a single block of Bianco Carrara marble. The baroque sculpture is also made from this marble stone "Apoll and Daphne" by Gian Lorenzo Bernini, which is on display at the Galleria Borghese in Rome.
Also the famous Roman temple, Pantheon, was also built from different types of marble, including Bianco Carrara. Another impressive use of Bianco Carrara marble is the marble staircase in the Vatican Museum, which is one of the museum's most spectacular architectural elements. 
Brazil
Natural stones and Brazil go hand in hand, so to speak, which is why you shouldn't overlook Brazil as a potential travel destination. The country is known for its impressive granite formations, home to some of the largest and most beautiful granite quarries in the world.
The quarries in the town of Cachoeiro de Itapemirim in the state of Espirito Santo are particularly impressive, attracting thousands of tourists every year. Here visitors can admire a variety of granite types in all colors and patterns. The Thumm family regularly travels to Brazil to choose the different natural stones on site. From Brazil we also get one of our favorite quartzites, the Copacabana.
Copacabana – A family favorite
Copacabana is one of the natural stones from our classic collection. This is a 550 million year old metamorphite from Brazil. The Thumm family personally selected every single block of this quartzite from the quarry in Brazil. The linear structure of Copacabana is an absolute work of art of nature. Copacabana has a high degree of hardness and is very acid-resistant and less sensitive than marble.
A beautiful example of the processing of this special material is our oval »Bergen« dining table from Copacabana. 
Rock city of Petra, Jordan 
The rock city of Petra is a historical site in southern Jordan that dates back to the 3rd century BC. and the 2nd century AD was carved directly into the rock formation by the Nabataeans. The city consists of beautiful rock formations and was made from a pink-gold sandstone called »Nabataean Sandstone« or »Petra Sandstone« built.
The Nabataeans were skilled stonemasons and architects who used the natural rock formations to build their city. They carved temples, tombs, theaters and homes directly into the rocks. The Nabataeans were also known for their water systems, which allowed them to pipe water into the city and use it efficiently.
Although Petra was conquered by the Romans in the 4th century AD, the city remained inhabited until the 7th century and was an important trading hub on the ancient Silk Road. Today Petra is one of the most famous archaeological sites in the world and a UNESCO World Heritage Site. The rock city is also known as the "Pink Rock City" and attracts thousands of visitors every year to admire its fascinating history and breathtaking architecture. Petra is a bucket list destination for every history and natural stone lover.
California & Vermont, USA
Last but not least, the USA also offers a variety of interesting travel destinations for natural stone lovers. In Vermont there are e.g. B. a large number of quarries that specialize in the mining of marble. The most famous quarry in Vermont is the Danby Quarry, known for its high-quality white-gray marble and considered one of the major suppliers of marble for monuments and buildings in the United States.
California also has a number of quarries, where materials such as granite and slate can be mined. The granite rocks are particularly impressive Yosemite National Park, which are considered landmarks of the region and attract thousands of visitors every year.
Giza, Egypt
Of course, Egypt is also a travel destination that should not be missed if you are interested in natural stone or in cultural aspects of the material. Because: After all, the Pyramids of Giza are located in Giza - one of the oldest buildings known to mankind and the last of the Seven Wonders of the World from antiquity. Egypt is known for its ancient quarries, where granite and basalt have been mined since ancient times. Interestingly, there are no natural quarries around Giza itself, which means that... "Mythos Pyramide" was created. Particularly impressive is the Aswan Quarry, where the huge granite blocks were quarried that were used to build the pyramids and other ancient structures. A visit to this historic place can provide a deep understanding of the importance of natural stone in the history and culture of the country.
Find out more about all of our Natural stones from the classic collection. If you like something a little more unusual, then we have it with ours Exclusive Line very special and rare natural stones are curated for you, from which you can have your unique piece made.