Furnishing tips from MAGNA Atelier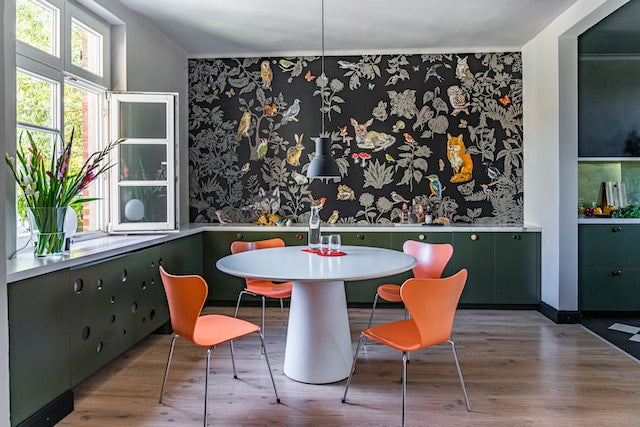 Welcome to another edition of MAGNA Living, this time not only dedicated to the beauty and charm of marble tables, but also to explicit furnishing tips for optimally showcasing these works of nature! If you have purchased a marble table from our studio or are still considering having one made, today we would like to give you some tips on how you can design the space around these timeless treasures.
We want to ensure that your marble table becomes the shining focal point of your living space or complements it in the best possible way, so that the entire room looks attractive, aesthetic and cozy. We would like to give you some furnishing tips and interesting ideas on how you can design a room simply and practically or even upgrade it. Let's get started right away!
Location, location, location – placement and alignment
It all depends on the placement of your marble table. This is crucial to design the room in the best possible way and to make your table work. Make sure the table is in a central position that is easy to access and doesn't make the room feel crowded. You should not place a table with one edge against a wall, provided you have enough space of course, but leave enough space on each side of the table.
When placing your marble table, also consider the natural light sources in the room to make the most of the fascinating play of light and shadow on the marble. For example, a clever idea is to place the table near a window to emphasize the natural shine and grain of the marble. The changing light throughout the day will present your table differently at different times of the day.
Minimalism – The marble table in focus
Particularly in minimalist furnishing styles, it is a good idea to make the marble table the focus. Fans of the minimalist interior style should reduce the number of items on and around the table to focus on the elegant beauty of the marble and let the high-quality material rub off on the room. Choose Accessories such as decorative trays, vases, sculptures or candle holders carefully to enhance the style of the marble if you don't want to distract from it.
The motto for minimalist living space design is "less is more".
Contrasts and color combinations
Another idea is to create strong contrasts with the marble table - you have one, for example a black table top made of Nero Marquina, then you could add accents with white accessories or brightly colored objects that serve as eye-catchers. The marble table is a true masterpiece of nature (and our studio), and around it you can play with contrasting colors to create a stunning visual effect.
To our Verde Guatemala Warm orange tones and red, for example, are suitable as complementary contrasting colors. The Brown Emperor is particularly well complemented by pink, red or even shades of blue and green. Dark or light carpets, colorful cushions or fine wooden furniture around your table can perfectly complement the elegant design of the marble and create an attractive contrast.
However, be careful not to choose too many colors at once and stick to one color theme, preferably the complementary colors of your marble color, so that the room does not seem overwhelming and the calm appeal of the marble is maintained.
Let There Be Light – lighting and atmosphere
The right light is the key to highlight the magical beauty of your marble table and any room. Natural light is the best way to highlight the special textures, grains and colors of your table. Do you have no or few windows in the room where you want to put your marble table? That's no problem. There are now excellent daylight lamps that are very similar to natural sunlight. We can also benefit from such lamps in winter, especially in our northern regions.
If you like to use decorative lamps for the evening or in general, always choose soft lighting with warm light to create a cozy atmosphere. Cold light from light bulbs can quickly make a room appear uncomfortable and sterile. Pendant lights or table lamps in particular can put your marble table in the spotlight and at the same time create a pleasant atmosphere in the room.
Experiment with different light sources to create the right ambience. Spotlights can also be an interesting method to highlight certain... decorative items, like a tray on the marble table.
Side tables – more than just companions
Is that certain something still missing from your room or maybe you already have one our unique side tables at home? The integration of side tables can help to fully design a room and create a harmonious atmosphere. First, think about what function the side table should have. Should it serve as a shelf for drinks, as a decorative element or as additional storage next to the couch? Depending on the intended use, you can place the table accordingly. Pay attention to the proportions of the marble side table and other pieces of furniture.
Our "New York" model is, for example, a highly decorative side table that fits perfectly with any interior style and can also serve as an eye-catcher or an artistic pedestal on its own. A side table should always look harmonious in relation to the surrounding furniture and be neither too big nor too small. Also decide whether you prefer a symmetrical or asymmetrical arrangement. Symmetrical placements often appear more formal and orderly, while asymmetrical arrangements can create a more vibrant and interesting look.
Place your side tables near seating such as sofas, armchairs or beds to give them more utilitarian use. This makes them practically accessible and provides a convenient place to store items such as books, remote controls or drinks. Also make sure that the placement of the side tables allows for a balanced distribution in the room.
Avoid cluttering the space or blocking the passage. You can also use the side table as a display area for decorative elements such as sculptures, candle holders or picture frames. These can enhance the table and make the room more personal. You can also experiment with different heights and layers by placing side tables of different sizes or with different heights next to each other. This gives the room an interesting visual dimension.
Did you know that we also offer custom-made products? If you have a smaller one Paris or London side table If you would like to have your existing model in a different size, please contact us. There are no limits to your ideas.
Care and preservation of your marble table
A well-maintained marble table will remain an eye-catcher in your home for eternity. Our natural stone tables have heirloom quality and no expiry date - due to its outstanding quality, several generations can enjoy the unique item. To do this, make sure that you clean your marble table regularly and protect it from stains and scratches.
We have one for the care of marble tables and other natural stone tables extensive care guide written for you to use as a guide. Always use mild cleaning agents and a soft microfiber cloth to remove dirt. Avoid harsh, acidic or abrasive cleaners that could damage the marble or natural stone.
Use coasters for hot items and drinks and do not allow spills to penetrate the marble surface for too long. Regular sealing of the marble also helps maintain its beauty and durability. If something goes wrong or stains and scratches occur, take a look at our Marble Care Guide which will give you helpful tips on how you can remove stains and scratches without much effort.
We also offer you a Natural stone care kit which consists of a daily cleaning product, a waterproofing agent and a cleaner for more stubborn stains.
Design Your Life – Final Thoughts 
A marble table is not only a functional piece of furniture, but also a statement of timeless elegance and sophistication in your living space. By carefully designing the space around your marble table, you can create a harmonious and appealing atmosphere that invites you to relax and enjoy.
Regardless of which one Interior style You prefer whether modern-minimalist or that Coastal-Granny Style, remember that the marble table should have enough space and is particularly effective as a statement piece, while other elements of the room flatter it.
We hope that our furnishing tips were of some help to you in planning and designing the space around your marble table in the best possible way. Enjoy the timeless beauty of this wonderful unique piece and let it become the centerpiece of your home decor.
If you are still looking for a suitable marble table, please visit our website to find one exquisite selection of high-quality and unique marble dining tables, Marble coffee tables and Side tables made of natural stones to discover.