Have a table made – Why a custom-made table is an investment in our collective well-being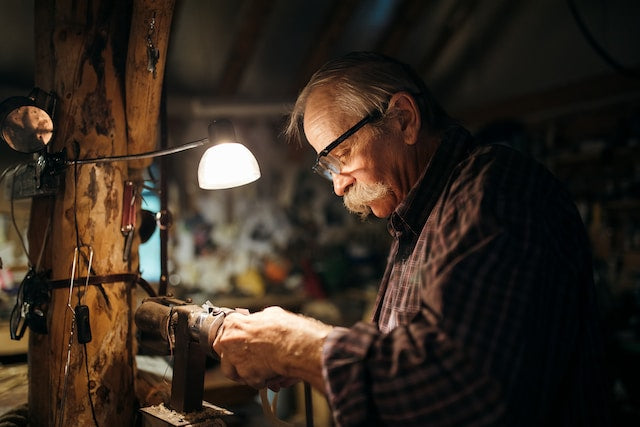 In a time when shopping malls, discount stores and online stores offer "off-the-shelf" furniture items at astonishingly affordable prices, it is hard to imagine that purchasing furniture was once an exclusive experience that produced individual masterpieces, some of which have been around for centuries were valued.
Before industrialization completely changed the shopping behavior and mentality of us as consumers, the process of buying furniture was an interplay of creativity, artistry and personal contact between craftsmen and customers - people often had to save for a long time to buy a piece of furniture or clothing to have it remade.
The pieces of furniture were then slowly and carefully made from high-quality materials and kept by their owners until they were worn out or could even be passed on.
In contrast, today's mass production of furniture and other consumer goods has serious impacts on our environment and socio-economic factors that affect countries around the world - landfills, poverty & exploitation are just a few examples.
It is therefore important that consumers change their mindset towards sustainability and conscious consumption and that we find our way back to old values ​​when it comes to material goods and our consumer behavior. 
In this article we would therefore like to focus on the added value of custom-made and unique items.
Have pieces of furniture made – Back to The Roots
If we look back into the past, we find an era in which furniture was not manufactured by machines in large factories. Instead, each piece was unique, carefully designed and crafted by skilled craftsmen in small and local factories. People back then entered the workshops of these artisans such as carpenters, carpenters and tailors to have their own unique possessions made.
At a time when machines and capitalism did not yet dictate the rules of production, each piece of furniture was a testament to the dedication and artistry of its creator. Industrialization brought about a profound change that not only affected the furniture market.
With the introduction of machinery and advanced technology, furniture, clothing, and other items could now be manufactured on unprecedented scales, and many small merchants, carpenters, and artisans were left behind. Because: the mass production of furniture etc. has made them many times cheaper. 
Lower prices were of course praiseworthy in the sense that citizens of the lower social classes could finally afford furniture, but this affordability also brought with it many downsides that we only fully understand today: environmental pollution, low wages, exploitation of the workforce in low-wage countries, unemployment in their own country and a drastic bankruptcy of small businesses.
This change reflected not only the development of manufacturing technologies, lifestyles and social structures, but also the aesthetic sensibilities of society. Furnishing frequently and consuming a lot was "in vogue" for a long time.
The once intimate relationship between craftsman and customer gave way to broader access to furniture that could be purchased facelessly and anonymously.
Today, when mass production and throwaway culture are slowly being viewed with skepticism and seen for what they are, it is worth taking a look back at the time when every piece of furniture was unique and had a story to tell.
If we live more sustainably and want to minimize our ecological footprint, then we have to revive craftsmanship and slow consumption.
We can do this by no longer purchasing mass-produced furniture from large suppliers, but instead relying on locally produced quality goods that we cherish and look after for a long time. 
What added value do custom-made products offer us?
Custom-made furniture pieces offer a number of added values ​​that differentiate them from traditional mass-produced products.
We would therefore like to show you why specially made, unique furniture can offer you far-reaching benefits that not only affect you, but also the collective well-being of our society.
Uniqueness & individuality
With a table or piece of furniture made just for you, you are in control. You decide on the dimensions, colors, materials and other details that make the custom-made product embody your very own vision.
Custom orders are unique and reflect your personal style and preferences. They allow you to create a home environment that is not a copy of another.
No compromises on dimensions – tailor-made solutions
A piece of furniture made specifically for you can meet the specific dimensions, shapes and requirements of your space. This is particularly valuable in rooms with unusual floor plans, slants or limited space.
High-quality workmanship by hand
Mass production requires fast and standardized manufacturing processes, which means details and workmanship quality are often neglected. Inadequate connection methods, lack of stability and inaccurate assembly often lead to inferior products.
Handcrafted pieces of furniture, as if from... MAGNA Atelier, are made by skilled craftsmen who pour their craftsmanship and passion into every detail. This leads to superior workmanship and longevity in our tables and unique pieces.
Material Selection – Marble, Quartzite, Metals & More
For tailor-made furniture, as well as for our natural stone tables, you have the opportunity to choose from a wide range of materials - be it fine woods, metals, natural stones or innovative materials such as MAGNA glass ceramic.
This allows you to determine and customize the look and feel of your piece of furniture.
Creative design
With custom-made products, you have the opportunity to actively participate in the design of your piece of furniture. You can choose or add design elements, colors, shapes and embellishments to create a unique work of art that perfectly reflects your personality in your living space.
Emotional connection
Since tailor-made pieces of furniture usually take a little longer to produce and are also a little more expensive, they have a different value for consumers. Custom-made products are often associated with special occasions or memories because you have to wait for the special one-of-a-kind pieces, have helped to design them and because you know that this unique piece only exists once in the world.
This emotional connection increases the appreciation and meaning we have for the piece of furniture. Because: How much have we really taken the 100 € table from the Swedish major supplier to our hearts?
sustainability
By getting customers exactly what they need, waste of resources is reduced. Handcrafted furniture has a longer lifespan and can be repaired or modified if necessary rather than replaced.
With examples like our natural stone tables, the marble slabs and natural stones theoretically last indefinitely and can be passed on to next generations if they are cared for properly. Keeping pieces of furniture instead of regularly replacing them with cheap goods minimizes our ecological footprint immensely.
Craft tradition
Making bespoke furniture can preserve and promote a long tradition of craftsmanship. Commissioning custom pieces helps pass on and protect the knowledge and skills of artisans.
This also creates valuable jobs and ensures that traditional job profiles are not replaced by machines and AI. Table-
Custom-made products from the MAGNA studio
Custom-made furniture pieces allow you to create spaces that are not only functional, but also aesthetically pleasing and personally meaningful. They can represent an investment in quality, individuality and artistic expression that transcends trends and fashions.
Likewise, the socio-economic aspect of furniture made specifically for you should not be neglected - slow and careful consumption of furniture and other items helps us protect our environment and behave ethically by actively avoiding mass production and throwaway culture counteract.
Let your creativity run wild and Implement your self-designed custom-made product with us. We will be happy to assist you with technical drawings and personal, individual advice!
If you have a custom-made product, you can 6-8 week delivery time calculate. Feel free to take a look too our exclusive line am to get an idea of ​​our range of exceptional, exotic and rare natural stones.
Browse through our large selection of tables made of marble, natural stone and practical accessories, which we make to order just for you.