Marble tables in households with children - elegance, individuality and sustainability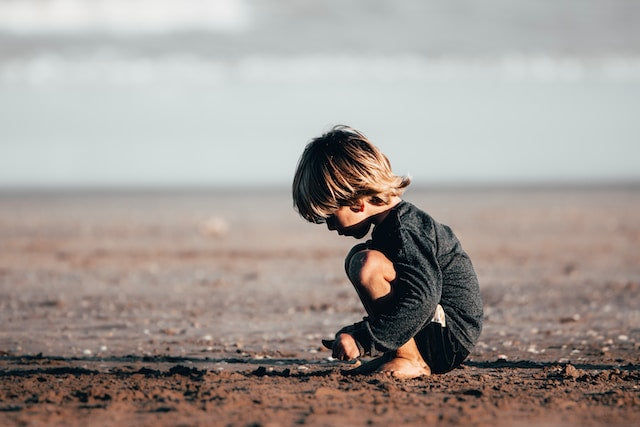 In today's world, where sustainability and environmental awareness play an increasingly important role, more and more people are striving to equip their homes with high-quality, long-lasting furniture. Marble tables and tables made of natural stone have become an extremely popular choice as they bring elegance and luxury to any room while being a natural product. But what about households where children live (and are in charge)? Can marble tables even survive in this environment and are they child safe? The answer is: yes!
In this article, we'll take a closer look at why marble tables are an excellent choice for families who value sustainability and individuality, as well as the safety of their children. 
Natural stone unique pieces – the uniqueness of every table
One of the main attractions of marble tables is undoubtedly their individuality and uniqueness. Because: Every marble table is unique, shaped over millions of years by Mother Nature herself. The unique grain and color make each table a work of art in its own right. For parents looking for a statement piece of furniture that is not only functional but also offers aesthetic value Marble tables therefore the perfect choice.
MAGNA Atelier has understood this and, as a third-generation company, not only focuses on the beauty and uniqueness of natural stones, but also on one sustainable and ethical production in Germany. With a wide range of marble and natural stone types from around the world, our customers can design their own table that perfectly suits their style and living space. It doesn't matter if it's a big one dining table for the whole family or a small one Side table for the children's room We allow you to create unique custom pieces that reflect your family's personality.
Sustainable production – responsibility for the future of our children
In a world where environmental protection and sustainability are finally playing an increasingly important role, many of our customers find it reassuring to know that we use environmentally friendly practices when manufacturing our marble tables. We produce our own solar energy, reuse water and proactively conserve our planet's resources as a company to minimize the environmental impact of our furniture production. We also compare the CO₂ emissions of every order with our partner Greenspark by planting two trees and collecting three plastic bottles from the sea for every table that leaves our factory.
This ensures that nature is protected and that our tables are not only beautiful, but also offer our customers peace of mind. If we want to do something good for our children and start changing their future for the better, then we shouldn't waste any more time fueling the dragon that is the throwaway culture by buying cheap goods from China or Replace furniture after a few years.
Tables and furniture from the MAGNA studio have heirloom quality, so that several generations can and can enjoy the same table. 
Marble Tables and Kids – A Safe Combination?
Now we come to a question that worries many parents: Are marble tables child-safe? The answer is that they can be if you keep a few things in mind.
Marble tables and natural stone tables are naturally strong and durable, making them ideal for use in homes with children because they will stand the test of time. They are scratch-resistant and heat-resistant, so little adventurers can't harm the table. A small mishap with a plate or a pen is nothing to worry about, as marble tables and tables made of natural stone easy to clean are.
But what does it look like the other way around? Are marble tables safe for children?
Our unique pieces are made of stone and stone is hard. However, the same applies to other materials such as wood, plastic and glass. The advantage of natural stone tables is that they don't splinter or break if your children get into a fight. If a child falls on a glass table, the risk of injury is higher than on a natural stone table. If you have very small children and are concerned, we can also grind the edges of the natural stone slab round upon request so that the risk of injury is minimized. 
In principle, however, the robust and unbreakable natural stones are ideal for households with children. 
Individual marble tables for families
Another great advantage that awaits you in the MAGNA Atelier is the opportunity to custom made marble tables to order. This is particularly beneficial for families who have specific needs for their furniture. Do you want a table with rounded corners to prevent injuries? Or do you need a marble table with built-in toy storage? We can happily and easily fulfill these wishes for you.
The ability to customize allows families to create pieces of furniture that fit perfectly into their everyday lives. This not only promotes functionality but also helps create a unique and personal living space.
Our in-house premium shipping company – delivery with style and care
Parents are superheroes who often have hectic and demanding everyday lives.
Almost all of us have a horror story that has to do with a shipping company - hours of waiting, inaccurate delivery dates or total radio silence and deliveries when you're not even at home. Freight forwarding deliveries are often a drama with many companies because the freight forwarding companies are external companies. 
This is exactly what the MAGNA Atelier wants to do better by delivering dining tables and large coffee tables with our in-house shipping company. Our premium shipping company ensures that your new table arrives safely and undamaged at a time that has been agreed with you by phone in advance. 
Our tables are carefully packaged and delivered by trained staff to ensure they are in perfect condition when they reach your home. We also assemble the tables and dispose of the packaging material. Our customer support extends beyond your purchase to ensure you are completely satisfied with your new natural stone.
Conclusion: Marble tables for style-conscious families with children
Marble tables are not just reserved for luxurious villas or elegant apartments in childless households. With the right choice and care, they can also be a stylish and practical addition to households with children. 
Invest in a piece of furniture that will be relevant not only today, but also for generations to come. MAGNA Atelier stands for quality, sustainability and elegance - everything a modern home needs.
Treat yourself and your family to the beauty and durability of marble tables that fit into your household while respecting the environment and your children's future.
Browse through our range of sustainable and high-quality tables now made of natural stones that your little ones will certainly be amazed by!