The Four Year Type Trend - Which Season Are You?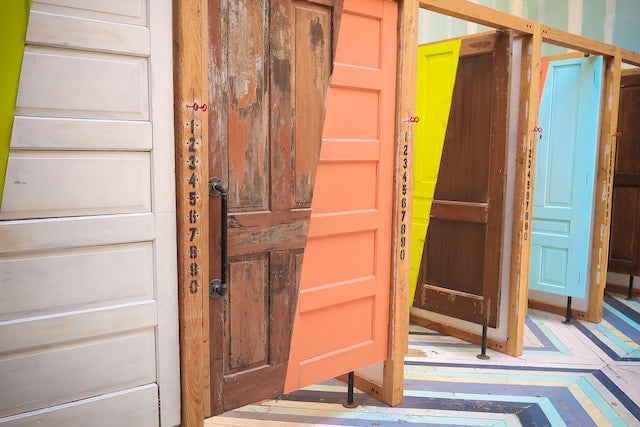 The trend can currently be seen everywhere on social media and even at Douglas it is sometimes difficult to walk through the store without the friendly salespeople trying to explain our color types. Winter, spring, summer or autumn are the four major color groups, which can be further divided into subgroups and belong to the so-called four-year type system. The four-year type system is a system for determining color types in order to receive personal recommendations for the choice of colors for clothing, make-up and also for interior design. 
Our color type is determined by our hair color, eye color, skin color/complexion and our undertone. Depending on which color type we belong to, we receive a color palette with the colors that suit us best and that flatter us. Of course, we are also informed about the colors that we should avoid. Even if you are initially a little skeptical about most trends, we can say here: it actually works.
Many people find that they already like to wear or have around them the colors that belong to their color type - be it for clothing or interior design. Of course, there are some exceptions and you also get to know a few new colors that you may not have in your closet often or that you haven't chosen for your sofa cushions before. 
And color theory can also be extended to the interior sector? Yes absolutely. But first we would like to introduce you to the different color types according to the four-year type system. Let's go!
The four-year type system – the color theory
The four-season system is an extension of the color type concept and includes four main types named after the four seasons: spring, summer, fall and winter. Each color type is determined by certain characteristics such as skin color, hair color and eye color. Within each season there are also further sub-groupings and variations that take into account even more specific characteristics.
If you also want to find out which season you belong to, you can on this website Upload a photo of yourself and have your season determined exactly. 
So what do the different seasons look like in terms of color types?
The Spring Type - The sun comes out
The spring type is characterized by a warm skin tone with golden or reddish undertones. The hair colors of a spring type range from light blonde to light brown, while the eye color of a "spring" type is often blue, green or light brown. The spring type can be divided into further subgroups. We would like to briefly discuss two of the most common subgroups. 
Heller Spring/Light Spring
People who belong to the Light Spring often have very fair skin, blonde hair, and light eyes. A fair spring's hair color can be platinum blonde or golden, and the eye color is often blue and less often green. Bright springs look especially good in pastel colors such as soft pink, light blue and lilac.
A well-known example of this color type is the actress Amanda Seyfried. 
Warm Spring/Warm Spring
Warm Spring often has slightly tanned or peach-colored skin, with golden or copper-colored hair and green or hazel eyes. The Warm Spring looks good in bright and warm colors such as coral red, golden yellow and terracotta. For example, Tyra Banks is a "Warm Spring." 
Interior design tips for spring types
If you're a spring type, then chances are good that you like bright and warm colors as well as colder pastel tones. You can use the following tips as inspiration to design your living area according to your color type:
Die Sommertypen – Keeping Their Cool
A summer type is characterized by a cool skin tone with bluish or rosy undertones. Hair color varies from ash blonde to medium brown, and eye color can be blue, gray or green. The summer type is also divided into subgroups:
Heller Sommer/ Light Summer
The Light Summer often has fair skin with a cool, slightly rosy undertone. Their hair is most often ash blonde or light brown, and their eyes can be blue or gray. Cool pastel colors such as light blue, lavender and silver suit bright summer particularly well. Warm tones in particular are not suitable for light summer color types, as the warm undertones bring out the rosy skin tone. Gwyneth Paltrow, for example, is a light summer. 
Cool Summer/Cool Summer
Cool Summer has a light olive skin tone with cool bluish or gray eyes. The hair can be medium brown or ash blonde. Cool summers look good in muted colors like taupe, lilac and stone gray. Actress Emily Blunt is a good example of a Cool Summer color type.
Interior design tips for summer types
Even if your season is warm and bright summer, cool colors are your thing. 
The autumn type – warm & natural 
The autumn type has a warm skin tone with golden or reddish undertones. Fall-type hair colors range from medium blonde to dark brown, and their eye colors are most often brown, amber, or green. Cool colors and black don't suit most fall types. The autumn type has three subgroups, two of which we will discuss in more detail:
Gentle Autumn/Soft Autumn
The Soft Autumn often has peachy skin with a warm undertone. A Gentle Autumn's hair can be dark blonde or light to medium brown, and their eyes are often green or hazel. Gentle autumn types look good in natural, temperate and earthy colors such as olive green, rust red, beige and gold. The hair and skin color can almost blend into each other in a Soft Autumn. Gigi Hadid, Brad Pitt and Giselle Bündchen are examples of the Soft Autumn color type. 
Intense Autumn/Deep Autumn
Intense Autumn has a stronger warm undertone in the skin and can have an olive skin tone. Deep Autumn's hair colors range from dark brown to auburn, and their eye color is most often dark brown or green. The Deep Autumn color type includes rich, saturated colors such as dark red, pumpkin orange and pine green. Penélope Cruz and Jason Momoa are two very illustrative examples of a Deep Autumn.
Interior design tips for fall types
The winter types – cold with a "pop"
The winter type is characterized by a cool skin tone with bluish or rosy undertones, similar to the summer type. Hair color can range from dark brown to black, and eye color is often dark brown or blue. The winter type also has several subgroups:
Heller Winter/ Light Winter
People in this subgroup type often have fair, porcelain-like skin with a cool undertone. The hair can be black or dark brown, and their eye color is usually dark brown or blue. Strong contrasting colors such as black, white, royal blue and bright pink suit the bright winter particularly well.
Cool winter/Cool winter
The cool winter has a light skin tone with a slightly olive undertone. The hair can be jet black or dark brown in a cool winter, and their eye color is often dark brown. Cool winters look good in bold, cool colors like navy blue, silver gray and intense pink. Alexandra Daddario and Collin Farrell are, among others, cool winters.
Interior design tips for winter types
MAGNA Atelier will be happy to advise you on furnishing your living space
Our meticulously designed range of high-quality, unique designs made from real natural stones and our sustainable MAGNA glass ceramic offers you an ensemble of all kinds of colors. 
We would be happy to advise you on the different types of natural stone or glass ceramic colors (regardless of your color type). Browse through our entire collection of tables and accessories and beautify your living space the way you like it best.