Exclusive furniture made from rare natural stones
For our Exclusive Line We only use the most extraordinary and exotic natural stones in the world. Each specimen is unique and has an astonishing history that goes back several million billion years. If you purchase a model from this collection, you can... a special section of the natural stone board in advance for your unique piece choose. The objects in our Exclusive Line cannot be surpassed in terms of exclusivity and quality.

Our Exclusive Line - the epitome of our work
With our Exclusive Line we have created the heart of our creative creation. This collection has special models with particularly rare natural stones for you, which we only process in limited numbers. All natural stones have been carefully curated by our experts who have been working in this field for generations. In the exclusive collection you will find furniture and unique pieces in heirloom and collector quality that will maintain, if not increase, their value over generations.
PATAGONIA
PURPLE CALCATTA
AVALANCHE
GREEN ONYX
Advocate
FUSION RED MOON
FUSION WOW
LUMIX CRYSTAL
GATSBY QUARTZITE
TURTLE ILLUSION
BLACK SAHARA
Discover our rarest natural stones
Extraordinary natural stones that depict the origins of our planet
Exclusive Line - Products
The most extraordinary natural stones from our worldwide quarries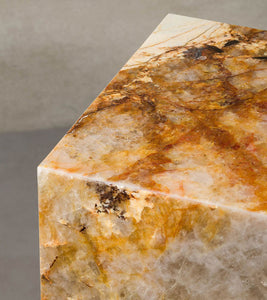 Patagonia
A QUARTZITE FROM BRAZIL - 2 BILLION YEAR OLD
Patagonia is one of the rarest and oldest natural stones in the world. This special quartzite is over 2 billion years old and was once formed from sands that became huge crystals, giving Patagonia its translucency.
South Africa
Norway
Italy
middle East
Create your individual unique piece
In addition to the models from our collections, we can also create a piece of furniture for you according to your own ideas. A frame, a natural stone & dimensions of your choice. We manufacture all products in Germany and can therefore respond to all of our customers' wishes with short delivery times.